Daily we come across many videos of different formats. Sometimes only the sound comes and we can't seem to see the video. We have to search for codecs to play them smoothly. There are a large number of different codecs out there and hundreds of different players for different formats. So if you don't want to tear your hair out in frustration, there are some great media players out there which support multiple formats. So here is a list.

The KMPlayer


The KMPlayer is a video and audio player for Microsoft Windows which can play a large number of formats such as VCD, DVD, AVI, MKV, Ogg, OGM, 3GP, MPEG-1/2/4, WMV, RealMedia, FLV and QuickTime among others. It handles a wide range of subtitles and allows one to capture audio, video, and screenshots.
The player provides both internal and external filters with a fully controlled environment in terms of connections to other splitters, decoders, audio/video transform filters and renderers without grappling with the DirectShow merit system. Interestingly, it is said that internal filters are not registered with a user's system to keep it from being messed up with system filters.
The player can set multifarious audio and video effects, slow down or increase playback speed, select parts of a video as favorites, do various A-B repeats, remap the keys of remote interface for HTPC including overlay screen controls, change a skin dynamically depending on a media type playing, and many more. The KMPlayer is completely customizable thanks to a wide selection of skins and color schemes, and the configuration options are very extensive.
The "K" of KMP simply indicates the initial character of the original developer's family name (Kang). The full name of KMPlayer is K-Multimedia Player. In March 2008 development has been taken over by Pandora TV, a Korean streaming video company.
My thoughts : It is my favourite video player. I haven't seen any players which supports more formats than the KMPlayer. Simply awesome!
Download
MPlayer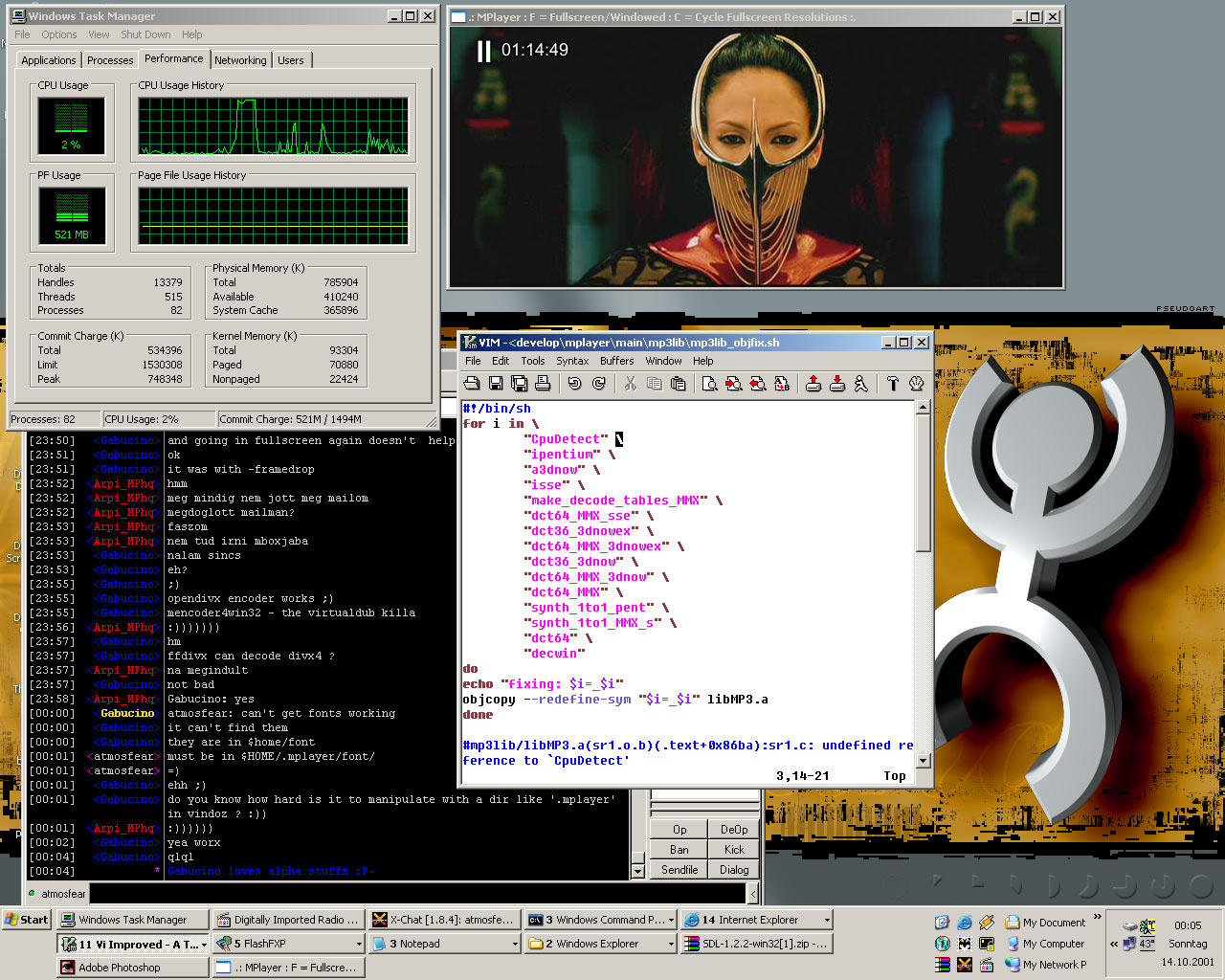 MPlayer is a free and open source media player distributed under the GNU General Public License. The program is available for all major operating systems, including Linux and other Unix-like systems, Microsoft Windows and Mac OS X. Versions for OS/2, Syllable, AmigaOS and MorphOS are also available. The Windows versions works, with some minor problems, also in DOS using HX DOS Extender. A port for DOS using DJGPP is also available. A version for the Wii Homebrew Channel has also emerged.
MPlayer supports a wide variety of media formats. In addition to its wide range of supported formats MPlayer can also save all streamed content to a file.
A companion program, MEncoder, can take an input stream or file and transcode it into several different output formats, optionally applying various transforms along the way.
MPlayer is a command line application which has different optional GUIs for each of its supported operating systems. Commonly used GUIs are gmplayer (the default GUI for GNU/Linux and other Unix-like systems, and Microsoft Windows), MPlayer OS X (for Mac OS X), MPUI (for Windows) and WinMPLauncher (also for Windows). Several other GUI frontends are also available for each platform.
My thoughts: This is a command line player, and therefore it is the lightest and least resource heavy of the lot. People who are used to cli based applications should grab it, and I recommend it to the gui fanboys to!
Download
GOM Player
GOM Player (Gretech Online Movie Player) is a freeware media player for Microsoft Windows. Key strengths are the ability to play the majority of media files without the need to obtain a codec, and the ability to play some broken media files, both advantages over traditional players, like Windows Media Player. GOM player can also play .flv files. It was created by the Gretech Corporation of South Korea.
My thoughts: The best looking player of the lot and it supports various formats too!
Download
VLC media player
VLC media player is a free software media player written by the VideoLAN project.
It is a portable multimedia player, encoder, and streamer supporting many audio and video codecs and file formats as well as DVDs, VCDs, and various streaming protocols. It is able to stream over networks and to transcode multimedia files and save them into various different formats. VLC used to stand for VideoLAN Client, but that meaning is now deprecated.
It is one of the most platform-independent players available, with versions for BeOS, Syllable, BSD, Linux, Mac OS X, Microsoft Windows, MorphOS and Solaris, and is widely used with over 85 million downloads for version 0.8.6.
VLC includes a large number of free decoding and encoding libraries; on the Windows platform, this greatly reduces the need for finding/calibrating proprietary plugins. Many of VLC's codecs are provided by the libavcodec library from the FFmpeg project, but it uses mainly its own muxer and demuxers. It also gained distinction as the first player to support playback of encrypted DVDs on Linux by using the libdvdcss DVD decryption library.
Version 0.8.6, which adds support for WMV version 9 and enhanced support for H.264, was released on 10 December 2006.
My thoughts: This player has started this whole movement, where a single player can support multiple formats. It therefore deserves a special mention!
Download
P.S. Descriptions from Wikipedia :)